Scheme to help first-time buyers in Glasgow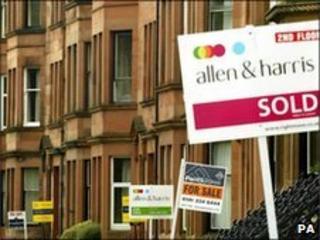 A £2.1m fund has been launched in Glasgow to encourage first-time house buyers to save and apply for mortgages through credit unions.
Unique Property Solutions (UPS) is offering up to 20% deposit funding loans and mortgages of up to 95%.
The scheme was developed by Scottish housebuilder Cruden Homes with partners Glasgow Credit Union, NHS Credit Union and the Co-Operative Bank.
If the model is successful, it could be used elsewhere in Scotland.
John Gallacher, managing director of Cruden Homes, said: "We know there are many young people, first-time buyers and people with a poor credit history who are being excluded from owning a home.
"Our approach is to work with these individuals to encourage regular saving through Glasgow Credit Union and build a bespoke re-payment plan so that in six to 12 months down the line they can be considered for a mortgage.
'Radical thinking'
"This initiative is perfect for first time buyers who have been unable to save large deposits, who may have struggled to obtain a mortgage from the bank or who feel their income is too low."
The scheme also offers eligible customers alternative banking options, advice on issues affecting credit ratings and the provision of top-up loans without deposit savings.
Housing and Communities, Alex Neil, who launched UPS in Glasgow's Govan area, said "Scotland's housing system must adapt with radical thinking and bold new ideas" to the new financial climate.
"More than ever we need the public and private sectors to work together to make sure people in Scotland can meet their housing needs and aspirations," he said.
"I welcome innovative approaches, such as this initiative, being developed by private companies in partnership with other organisations, to try to help first-time buyers get onto the property ladder."