Market rally spurred by bank stress test hopes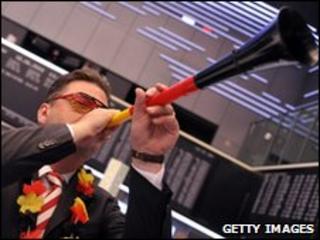 Stock markets, oil prices and the euro have gained ground for a third day, spurred on by hopes that European banks will pass EU stress tests.
The Dow Jones rose 0.5% in early trading, while European markets were up between 1% and 1.5% by mid-afternoon.
The optimism also helped the euro add to a month-long rally, nearing $1.27.
And US light crude oil rose above $75 a barrel, on hopes that the US and Europe would avoid a relapse into recession, though later slipped back.
London Brent crude also rose towards $75 a barrel.
Stocks resurgence
Last Updated at 12 Dec 2017, 16:21 GMT
price
change
%
67.40 p

+

+0.76

+

+1.14
After three months of falling markets, many investors have taken the view this week that fears of financial stress in Europe and of a possible double-dip recession have been overdone.
The continuing bullish sentiment saw the Japanese Nikkei index close up 2.8% earlier in the day.
In Europe, bank stocks led the way up, notably UK and French firms as well as Credit Suisse and Deutsche Bank.
Most major European banks have risen strongly, some by more than 15%, over the past two days. Much of the gains came in a strong rally on Wednesday afternoon.
Bank shares jumped again at the start of trading on Thursday before falling back slightly, then surging again after lunchtime when the European Central Bank announced it was maintaining interest rates at 1%.
Last Updated at 12 Dec 2017, 16:35 GMT
price
change
%
44.53

+

+0.59

+

+1.33
The results of stress tests being carried out by European national authorities on 91 banks are expected on 23 July.
Market hopes are rising that most banks will either pass the tests, or be landed with relatively moderate demands to increase their capital.
However, Spanish banks Santander (which owns various UK banks such as Abbey) and BBVA failed to join in the continuing party mood on Thursday, with their shares only rising slightly.
Energy, raw materials and industrial stocks also did well, as markets bet on growing global production despite anaemic Western consumer spending.
Safe assets, such as gilts, lost value as investors switched their money into higher-yielding, more risky investments.