Lorry-load of litter left in Yeovil skate park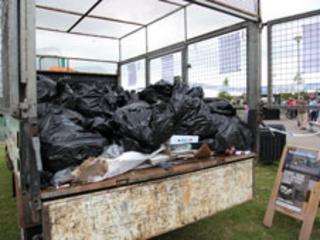 A lorry-load of litter dropped in one month at a Somerset skate park has been returned there in a bid to stop youngsters leaving rubbish.
A total of 38 full black sacks of litter were displayed at Oak Tree Park in Yeovil under the banner Don't Be a Dirty Chucker.
Chris Rowland, of South Somerset District Council, said: "We wanted to show people what would happen if it wasn't cleared up."
The rubbish was all collected in June.
Mr Rowland, the council's environmental enforcement officer, said: "We hope this will encourage park users to use the bins rather than rely on others."