River levels in Devon and Cornwall 'lowest since 1995'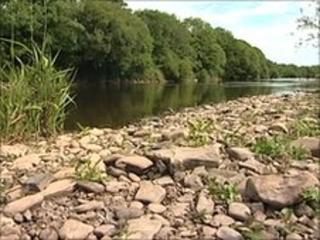 Rivers in Devon and Cornwall are at their lowest level for nearly 15 years because of a lack of rain, the Met Office said.
The first six months of the year have been the driest experienced in the South West since 1929, it said.
The falling river levels have sparked concerns about the quality of the water and its effect on wildlife.
Some farmers have been issued with abstraction licences to stop them using rivers to supply their fields.
'Easy pickings'
The lack of rainfall has resulted in pollutants in rivers becoming more concentrated and an increase in algae.
Martin Wyler from the Environment Agency, who is responsible for the River Exe, said the situation was being monitored very carefully.
"The rivers are getting low and there are some abstraction licences on the River Dart," he said.
"On the Exe we're not quite at that stage, but we're getting very close to it."
Low river levels, however, are good news for otters in the South West, who have easy pickings of any fish who become trapped in the shallow water.