Ipswich housing development causes concern for toads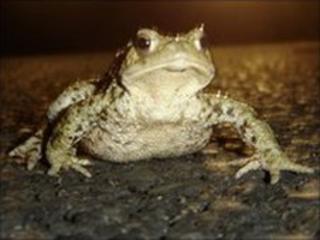 A wildlife group has said a proposed housing development on land in Suffolk could have a negative impact on wildlife in the area.
The 11-acre Kiln Meadow site is home to one of the largest colonies of toads in the UK and home to native shrubs and flowers.
Suffolk Wildlife Trust said the loss of the Meadow would make it difficult for wildlife to survive.
Ipswich Council said its proposal provided protection for toads.
The council is proposing to sell the land with more than 100 homes being built there.
Proceeds to wildlife
The council executive will meet on 13 July to discuss the issue.
Dr Simone Bullion, senior conservation advisor from the Trust, said: "The recent suggestion that a corridor within the development would address ecological impacts is utterly misguided as the survey work is still incomplete.
"In any case we believe there would still be a significant negative impact upon biodiversity."
Ipswich Council deputy leader John Carnall said: "Our proposals provide extensive protection for the toads and it is important to remember that this council's record in protecting and enhancing green spaces in this part of town is second to none.
"I will be recommending to my fellow councillors that if they agree to sell the site that the council should commit to allocate £1m from any proceeds to fund environmental and wildlife improvements in this area and, where appropriate, across the rest of the town."