Body of South Yorkshire soldier repatriated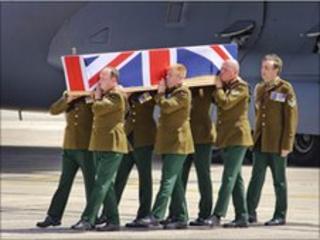 The body of a young British soldier killed by a roadside bomb in Afghanistan has been repatriated.
Trooper James Anthony Leverett, 20, from Rawmarsh, South Yorkshire, of Royal Dragoon Guards, died in Helmand province on Monday.
His body was repatriated to RAF Lyneham, Wiltshire, for a chapel service before his coffin passed through Wootton Bassett.
His grandmother Linda Mason broke down in tears as the hearse passed by.
The soldier was killed while on a vehicle patrol in the Nahr-e Saraj district. He was helping to secure a route under construction between Lashkar Gah and Gereshk.
Hundreds of shopkeepers, soldiers and well-wishers joined Trooper Leverett's girlfriend Tiffany, who will give birth to their first child in September, and family and friends in lining the high street of Wootton Bassett in silent tribute.
His aunt Sarah Johnson said: "James was the one and only. He was a person that had no enemies.
"He was loved and will never be forgotten. He was a star, he was a super hero.
"We are all so proud of what he did. He has made so many people so proud."
L/Cpl James Turner, of The Royal Dragoon Guards, added: "He was a right nice kid, everybody who knew him loved him. He was brilliant at his job.
"We are all just really sorry he has gone and we are going to miss him."
Earlier this week, his commanding officer Lt Col James Carr-Smith described Trooper Leverett as a "model soldier".