Royal Marine mourned in home town of Wigan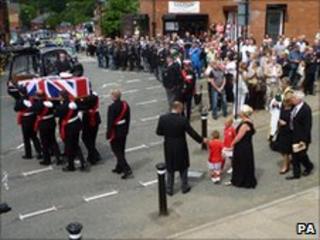 Hundreds of mourners have paid their respects to a Royal Marine from Wigan who was shot dead in Afghanistan.
Sgt Steven Darbyshire, 35, was on security patrol in Sangin when he was killed in a firefight on 23 June.
Well-wishers packed Wigan Parish Church for his funeral and hundreds others stood outside to listen to the service.
Lt Col Paul James, Commanding Officer, 40 Commando Group, Combined Force Sangin, said Sgt Darbyshire "was one of life's great characters".
Mourners applauded as Sgt Darbyshire's partner, Kate Rowe, and their children Callum, five, and Ryan, three, followed the coffin into church.
'Proper Lancashire lad'
The boys were dressed in England football strips.
The Royal Marine's brother, Neil Darbyshire, paid tribute to him.
He told mourners there were many stories about his brother - "most of them ending with him taking his clothes off".
Sgt Darbyshire joined the Royal Marines in 1996.
He quickly progressed and was renowned for his bravery and selflessness - and had seen action in Northern Ireland and Iraq as well as Afghanistan.
Lt Col James said: "A proper Lancashire lad, he typically had the wit, the cunning and the tenacity down to a fine art.
"I knew him to be a charismatic, loyal, determined and dedicated sergeant with an irrepressible and infectious sense of humour.
"The last time I saw him he was covered in thick mud having just fallen into an irrigation ditch, but he gave me a beaming smile and, in the manner that only he could deliver, illuminatingly described his misfortune to all.
"He never took life too seriously, but he cared passionately for the lives of others. He was a selfless, honest and extraordinarily courageous leader who thrived in the role of Troop Sergeant."