'Illegal' yellow lines to stay outside Woodchester home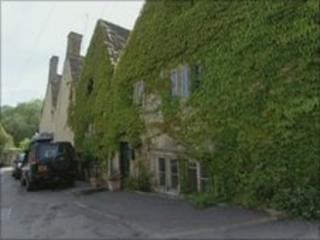 A council will not use tax payers' money to remove yellow lines painted around two parking spaces outside a home in a Gloucestershire village.
Woodchester parish councillor Paul Syrett, 46, painted the two bays after becoming frustrated with cars blocking the front of his home.
He said the land belongs to him but Gloucestershire County Council said it was part of the highway.
The council previously told Mr Syrett the lines were not enforceable.
A council spokesman said: "Although these lines are on the public highway, they do not pose a threat to safety in any way and currently, we have no plans to spend taxpayers' money removing them.
'Fence removed'
"Even if the land beneath the Tarmac belongs to Mr Syrett, the surface is dedicated as highway according to Highways Records, including Ordnance Survey Maps. Highways rights supercede any other rights.
"We have advised him that they are not backed up by any legal order and are not, therefore, enforceable," he added.
Mr Syrett has defied calls from neighbours to remove the lines saying he has the right to protect his property and denies doing anything illegal.
He said the land used to be a patio garden surrounded by a fence which was removed 15 years ago to provide parking for the previous residents.
"It's pathetic and unfair," he said. "We are not going to get in to tit for tat, we are above that.
"If we put a fence up around our land what issue would there be?"