Abandoned cat waits for dog in Sherborne pub car park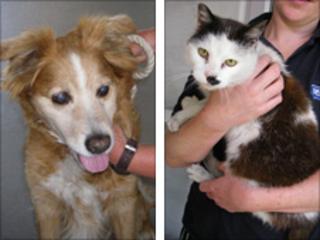 A cat abandoned with a dog in a Dorset pub car park waited all night for its canine companion to return after it was taken in by passer-by.
The elderly pair were left by the Half Moon pub in Sherborne on 21 May and are now looking for new retirement homes.
The crossbreed dog was tied up but the cat was left loose and a set of food and water bowls were found with them.
The RSPCA said the animals were reunited at the vets and taken the West Hatch Animal Centre near Taunton.
'Incredibly sad'
Staff have named the black and white male cat Dec and the light-coloured mongrel Ant.
Dec is thought to be aged about 10 and Ant is estimated to be about 14 years old.
Ken Snook, RSPCA inspector, said: "Although the dog was taken in by a member of the public on Friday night the cat had remained loose in the pub car park and amazingly he had patiently waited there until the next day where he was found, waiting for his companion to return."
"It is incredibly sad to think that someone has had all these animals, probably for years and then they decided to abandon them in this way."
The charity is appealing for anyone who recognises the animals, or who knows how they came to be in the pub car park, to contact them.
Mr Snook added: "These are quite unusual circumstances and it could be that this is something other than an abandonment, so if the owner is out there I would urge them to come forward and talk to us."