Coventry boy 'world's strongest' after charity lift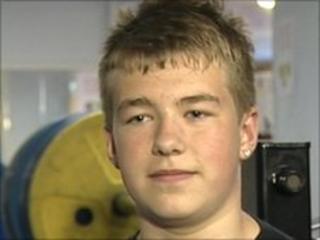 A 12-year-old schoolboy is celebrating breaking a world record after lifting more than twice his body weight.
Kyle Kane, from Coventry, managed to lift 308 lbs (139.7 kg) at a charity event, smashing the previous deadweight record by 72 lbs (32.6 kg).
His father, John, said the attempt has now been recognised by the World Association of Benchers and Dead Lifters as a new world record.
Kyle, who weighs about 140 lbs (63.5 kg) wants to compete in 2016 Olympics.
He said he also wanted to help promote children's fitness.
"At 12 years old to have a world record, it feels phenomenal because not many people my age can lift this weight," he said.
"I love it because I want to get really muscley and Britain ain't had a champion for years now.
"I want to be the next champion and promote fitness for kids."
His father John, a former professional body builder, said some people disagree with training a young boy in a gym but he has worked on gradually building Kyle up.
Guinness World Records will not endorse the record attempt because of Kyle's age, he added.
"Some people say it's bad to train to run weights from an early age," he said.
"Others - the lads in the gym - give him encouragement all the way because we have built it up.
"It is training. We have done a gradual process to get the product that we have got today with Kyle."
The record breaking event raised about £600 for a multiple sclerosis charity in Coventry.