Bovis Homes to resume dividends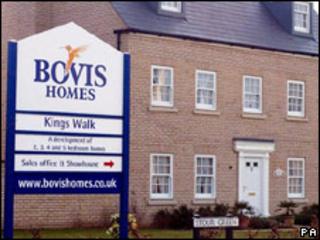 Bovis Homes has said it will resume its dividend at the end of the year after seeing solid trading in recent months.
Bovis completed 803 homes in the first six months of 2010, a rise of 6% compared with a year ago.
The average selling price of private homes rose from £160,400 to £163,500. But including social and partnership homes, the average sales price fell.
At the end of 2008 Bovis said it was experiencing the worst trading environment "for many years".
Returning confidence
Last Updated at 18 Dec 2017, 16:20 GMT
*Chart shows local time
price
change
%
1139.00 p

+

+13.00

+

+1.15
Homebuilders were hard hit in the recession as the housing market suffered a sharp decline.
Bovis said at the beginning of 2009 that it would not pay a dividend. It also had to reduce its workforce by more than half to try to survive the downturn.
But the group now says it has a strong net cash position, holding £79m.
"Given the confidence the board has in the medium-term prospects of the group arising from its investment in new land opportunities and the group's strong net cash position, the board intends to resume dividends at the end of the current financial year," Bovis said in a statement.
But it also said: "The new homes market remains subdued with ongoing liquidity issues in the first-time buyer market limiting the number of transactions and moderating sales price improvements."
Recent data from mortgage lender Halifax showed that house prices falling for the third successive month in June.
Having fallen in morning trading, Bovis shares finished Friday 1.6% ahead. Fellow housebuilders Redrow, Bellway, and Barratt Developments all ended in negative territory.