South Korea in surprise interest rate rise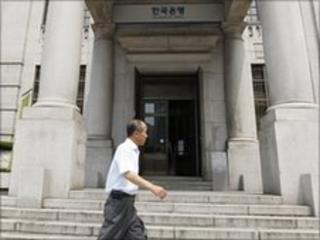 South Korea's central bank has unexpectedly raised interest rates for the first time since the onset of the global financial crisis.
The Bank of Korea increased the rate from a record low of 2% to 2.25%.
It also forecast continued economic recovery, despite sluggish growth in many overseas economies, and warned of increasing inflationary pressures.
South Korea is following other economies such as Australia and Malaysia in raising rates.
Most developed economies, however, have yet to raise rates. On Thursday, the UK kept its interest rate at a record low of 0.5%, while the European Central Bank also held the eurozone rate at 1%.
Unlike many Asian economies, they are not yet confident enough of a sustained economic recovery to raise the cost of borrowing.
The Bank of Korea's rate rise is its first since August 2008.
The Bank has forecast that the South Korean economy, the third largest in Asia, will expand this year at its fastest rate since 2006.
On Thursday, the International Monetary Fund said the global economic recovery would be stronger than previously thought, largely driven by Asian economies.
Further hikes
"Domestic economic activity is expected to continue on an upward track, even with the presence of overseas risks," said The Bank of Korea.
Analysts were equally upbeat.
"It appears that policymakers across Asia are reasonably confident about the economic outlook, despite concerns about the potential impact of euro area weakness and a near-term dip in growth from the fast pace set earlier this year," said Brian Jackson at the Royal Bank Canada in Hong Kong.
"We forecast the Bank of Korea to hike rates another 0.5% by the end of the year."