Community music groups in Wales 'hit' by funds changes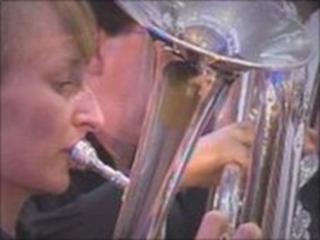 Community choirs, orchestras and brass bands could be hardest hit by changes to arts groups funding, it is claimed.
The Arts Council of Wales announced last week that fewer organisations will receive money from next April
Tŷ Cerdd, which gives money to hundreds of community music groups, told BBC Wales' Dragon's Eye programme it faced a significant cut to its grant.
The council said it would talk to the group before figures are finalised, with the aim of a support plan.
As well as providing small grants to amateur music groups, Tŷ Cerdd, which is based in the Wales Millennium Centre, also runs a music information service.
It manages the National Youth Choir, Youth Brass Band and other national youth groups.
Two-thirds of its money comes from the arts council, but it has been told to expect a "markedly reduced level in funding" in future.
One group which has received Tŷ Cerdd's support over the years is the City of Cardiff Brass Band.
"We're able to buy instruments through Tŷ Cerdd and get them cheaper as an organisation," explained conductor Gareth Ritter.
"We've got the full percussion of a symphony orchestra - we didn't have that two years ago. Through Tŷ Cerdd we've been able to do that, through the funding they've given us."
'Up in arms'
Lyn Davies of the Cardiff-based group said the announcement had "serious implications" for music in Wales.
Mr Davies said the mix between professional a non-professional music groups in Wales had been, and would continue to be, a vital part of the nation's culture.
"I very much regret that they're taking this particular decision," he said.
"I'm surprised that politicians aren't more up in arms about people in their own constituencies who are actively engaged in doing things.
"They're not sitting back home on their settees watching the box, they're actually out there doing things that enrich their local communities."
He added: "To threaten any of that is, I think, political suicide on behalf of the Arts Council."
The Arts Council of Wales confirmed that it will talk to Tŷ Cerdd before final figures are worked out at the end of the year.
"Where Tŷ Cerdd gives its money is a matter for it to decide," said spokesman Nick Capaldi.
"But we'll be talking to them over the coming months and hopefully come up with a plan to support and a strategy that benefits everyone."