Family pays tribute to Virginia Water crash biker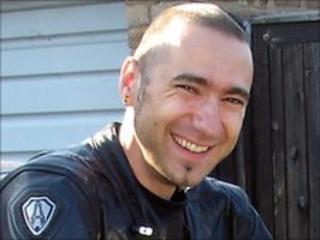 The family of a father-of-three who died after his motorbike collided with a car in Surrey have paid tribute to him as a "proper biker".
Lighting designer Steve Hazel, 36, from Bracknell, Berkshire, died in Frimley Park Hospital after the accident on the A30 in Virginia Water on 30 June.
His family said biking was one of Mr Hazel's three great loves, after his wife, Nicci and his three daughters.
He was travelling home from work in Egham when the accident happened.
'Respected by bikers'
The family thanked members of the public and paramedics at the scene and medical staff at Frimley Park for their "amazing efforts" to try to save Mr Hazel's life.
They said he had been riding for 20 years and his "beloved" motorbike was his year-round transport.
"It brings some comfort to his family and friends knowing he died doing something he loved," they said.
"He was a very safe rider, respected by many other bikers for his riding skills.
"He had a great sense of humour and made friends so easily it was almost unbelievable.
"Steve and his family had only recently returned from a family holiday to France which they both described as one of the best holidays they have ever had and one which will never be forgotten," the tribute said.