Aberdeen square plan hit by political row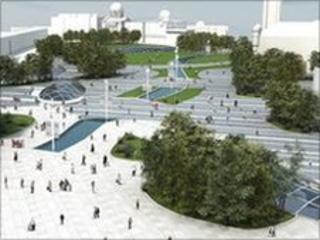 A row has erupted over controversial plans for a new civic square in the centre of Aberdeen.
A local MP is to complain to the Audit Commission over a letter sent to senior Labour politicians by economic development group Acsef.
The letter, sent before the general election, suggested the party's local MP and MSPs were not supportive of plans to develop Union Terrace Gardens.
Aberdeen South Labour MP Anne Begg said the action was unacceptable.
"This is clearly a political letter that has been written during an election campaign so I will be writing to Audit Scotland to see whether this has been a misuse of public funds," she told BBC Scotland.
Opinion divided
In the letter, Acsef expressed concern at the opposition of Labour MPs and MSPs to the plan to elevate the gardens.
Acsef said this week it stood by the letter, which was written on 14 April to senior Labour figures including the then Scottish secretary, Jim Murphy, and Scottish Labour leader Iain Gray.
The economic development body also said it hoped to meet with local Labour politicians over the issue.
In May, Aberdeen city councillors backed plans for the redevelopment of Union Terrace Gardens, backed by a £50m donation from local oil tycoon Sir Ian Wood and a £5m donation from an anonymous businessman.
But opinion in Aberdeen has been divided over the proposals.
During a public consultation process, 55% of respondents said they did not want the new square.
The council hopes construction of the square will be completed by 2016, if all goes to plan.