Sevenoaks man charged over Kent Air Ambulance attack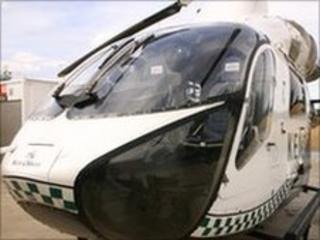 A man has been charged in connection with a disturbance that prevented Kent Air Ambulance responding to a 999 call.
The 19-year-old will appear at Sevenoaks Magistrates' Court on 27 July accused of a public order offence and resisting arrest.
Police were called after the aircraft landed in a field near The Vine Cricket Ground, Sevenoaks, on 23 May.
Officers said two people had been seen hanging off the helicopter's tail fin and swinging on the pilot's door.
A 17 year-old boy remains on bail while inquiries continue.
The alleged incident prevented the helicopter from being used to transport an injured baby, who had to be taken to hospital by road.