Bangor stripper's ankle tag 'ruined act'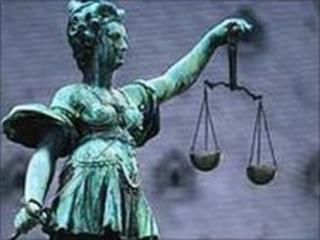 A stripper walked into a police station and removed an electronic tagging device on his ankle as it interfered with his act, the High Court has heard.
Sascha Machala, 21, from Willowbrook Gardens, Bangor, had been ordered to wear the tag as a condition of his release on bail on a burglary charge.
Lord Chief Justice Sir Declan Morgan agreed to grant bail but said he would not interfere with the tagging order.
However, he put back the start of a curfew from 9.30pm to 11pm.
'Something fluffy'
When told that the tag was interfering with Mr Machala's act the lord chief justice said: "He could put something fluffy around it."
Barrister Denis Boyd said: "I suppose he could incorporate it into his routine as a feature."
The barrister said Mr Machala started a strip-o-gram business after seeing a "Go for It" advert on television.
His business required him to attend house parties and perform in pubs, Mr Boyd said.
"The business was in its infancy and he soon realised that he could not facilitate his business while wearing the tag as he relies on a certain quality of presentation."
He said Mr Machala got so frustrated about the tag that he contacted those operating the tagging service and they advised him to see the police.
"It was then that he walked into the police station, took off the tag and was arrested," said Mr Boyd.
Crown lawyer Barry Valentine said police were agreeable to Mr Machala being released again as long as he was prepared to abide by the bail conditions.