Three held as 355,000 cigarettes seized in Ballymena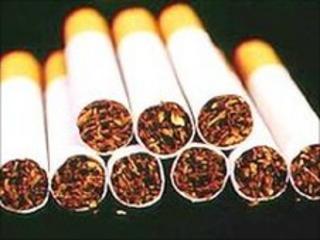 Two men and a woman have been arrested in Ballymena by Customs officers investigating the sale of illegal cigarettes.
A shop and house were searched during Friday's operation.
Officers seized 355,000 cigarettes, 43kg of hand-rolling tobacco, business records and documents, £21,000 in cash and a vehicle.
Customs said the duty evaded in the cigarette haul was estimated at about £105,000.
"The unregulated sale of illegal cigarettes is not a victimless or harmless crime, and encourages otherwise honest people to trade with criminals," Mike Connolly of Revenue of Customs said.
"We are tackling tobacco fraud at all points of the supply chain, from smuggling and storage through to sale, and we are now using new technology to quickly identify the illegal and counterfeit products."