Centre to Battle of Britain pilots planned in Kent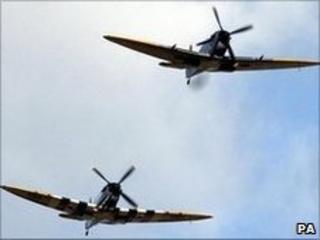 An appeal to raise £650,000 to build a learning centre dedicated to the memory of the 2,927 pilots who flew in the Battle of Britain has been launched.
The Battle of Britain Memorial Trust wants to build a "living history" visitor attraction in Cape-le-Ferne, near Folkestone, in Kent.
The trust said the centre would use technology and walk-through displays to recreate the events of 1940.
A memorial wall was unveiled in the village in 2005.
'Bravery and sacrifice'
Chairman of the trustees Richard Hunting said: "The youngest of our Battle of Britain veterans is now approaching 90 and we have to accept that they won't always be around to help remind people of that critical point in this country's history.
"The Battle of Britain was arguably the most important battle fought by this country in the whole of the last century and it is vital that young people, in particular, remember their bravery and, in many cases, sacrifice.
"Just 3,000 men are recognised as having played a part in a battle that prevented this country being invaded by Germany and we must remember their bravery and dedication."
A service and fly-past will take place on Sunday in Capel-le-Ferne to mark the 70th anniversary of the battle.