Pakistani tribesmen killed on 'safe' Afghan diversion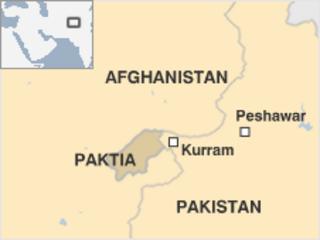 Gunmen in eastern Afghanistan have attacked a bus carrying Pakistan Shia tribesmen killing 11 people.
The tribesmen were travelling from Kurram to Peshawar in Pakistan, but had taken a detour into Afghanistan to avoid a dangerous direct route.
Buses often take the long detours to avoid the area which has witnessed increased Sunni-Shia violence recently.
It is unclear who carried out the attack. Sunni militants linked to the Afghan Taliban are the main suspects.
A spokesman for the governor of Paktia province said the gunmen had opened fire on the bus carrying the travellers in Samkani district.
Rohullah Samon said three other people, including a child, were wounded in the ambush.
The bodies of the 11 killed were handed over to the Pakistani authorities on Saturday.