Fly-past over Whitehall to mark Battle of Britain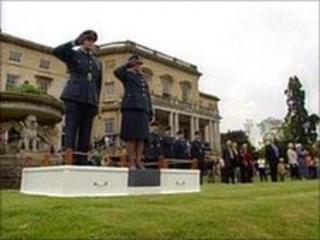 A Spitfire and a Hurricane will fly over Whitehall to commemorate the Battle of Britain.
Churchill War Rooms unveiled the plans on the 70th anniversary of the landmark air strike during World War II.
The battle began on 10 July 1940 when German Luftwaffe bombed London and the South East. The RAF fought the attack from Bentley Priory in Stanmore.
The fly-past will be held on 20 August after Winston Churchill's speech referring to "the few" is played.
The speech in which Churchill said: "Never in the field of human conflict was so much owed by so many to so few", will be played outside the Churchill War Rooms at 1552 BST, at the precise time it was delivered.
This will be followed by the fly-past as part of the free public event.
A full-size replica Spitfire in camouflage will also be on show outside the museum.
Phil Reed, director of Churchill War Rooms, said: "Now part of the general folklore of the Battle, the speech is today considered a defining moment of the conflict and one of Churchill's most emotive and stirring pronouncements."