Army's HQ Land Forces leave Wilton barracks for Andover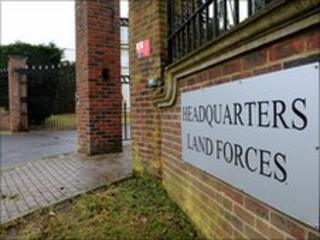 The Army's HQ Land Forces have nearly vacated their barracks in Wiltshire for a new base in Hampshire.
The unit, described as the "brains of the Army," formed in 2008 from a merger between Land Command at Wilton and HQ Adjutant General at Upavon.
The MoD said more than 2,000 service personnel and civilians will have moved to Andover by the end of July.
Commanding Officer Lieutenant Colonel Norrie Robertson said the current site was no longer suitable for their needs.
"The camp is split with a railway in between, so it's not ideal for communications," he said.
"We've had add-ons, portacabins built, etc, etc and because of that, the space here is very limited.
"The barracks is past its sell-by date to allow us to function successfully as a headquarters."
Maintain links
Those in married quarters will remain in Wilton and commute to the new workplace 20 miles (32km) away. The Army has arranged "assisted transport" for those who do not drive.
The Wilton site will be closed down and advertised for sale by the Army's Defence Estates, possibly for housing or light industry.
Lt Col Robertson said: "It's sad for me personally to have seen my staff moving off to Andover.
"We have a fantastic relationship with the people of Wilton. We hope we can have some kind of force's representation to maintain that link with Wilton.
"Of course, our families are staying here, there'll still be a force's presence. They'll be shopping in the shops, so it's not quite a dramatic closure, there'll still be the families."