'No excuse for violence': Statement by NI ministers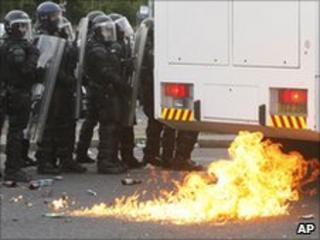 In a statement, NI's First and Deputy First Ministers said there was no excuse and no justification for the violence of recent days. Mr Robinson also said comments by a senior police officer alleging poor political leadership "were unhelpful".
First Minister Peter Robinson said: "I am disgusted at the outright thuggery and vandalism that has taken place over the course of the last 48 hours.
"There is no excuse and no place for violence in civilised society. Both the deputy first minister and I have been, and will continue, to work for a resolution of the difficulties around parading.
"I am disappointed to hear some of the comments from ACC Finlay and look forward to meeting with the Chief Constable shortly to discuss the events of the last 48 hours and ACC Finlay's unhelpful and unacceptable remarks.
"We must keep our entire focus on defeating those who would seek through violence and destruction to drag us back.
"I would like to thank the PSNI officers on the ground for all their efforts to restore law and order to our streets.
Recovery
"In particular my thoughts and prayers are with the policewoman injured in the course of her duties last night. I trust she will make a speedy recovery."
Mr McGuinness said: "Our experience demonstrates that the way to deal with any disputes or contention is through dialogue and agreement.
"There are numerous examples that show this to be the way forward.
"We are currently consulting on legislation that aims to provide a workable framework for dealing with contentious parades.
"Let's be clear there is no excuse for the violent scenes and attacks on police, property and the community that we have witnessed in recent days.
"We are resolute in our commitment to tackle sectarianism and will continue to work with all communities to promote good relations.
"This will require the community to stand united against all those forces seeking to bring conflict back on to our streets."