Staffordshire police cleared over stillborn baby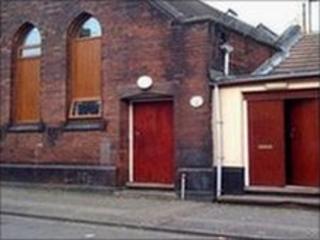 Staffordshire police have been cleared over the way they handled the discovery of a stillborn baby boy in a plastic bag outside a mosque.
The Independent Police Complaints Commission was called in following the discovery in Beresford Street, Shelton, Stoke-on-Trent, on 6 March.
The IPCC did recommend the force should introduce a more robust system for handling sudden death incidents.
A couple were arrested over the death but no further action was taken.
The IPCC report said that on arrival at about 1030 GMT a police officer was shown the bag containing the baby wrapped in material.
There was also a handwritten note which said "please help bury him, thank you".
Misunderstanding
An hour later a senior detective realised the death of the infant had not yet been certified.
While he saw no obvious signs of life, because of the absence of rigor mortis and other associated conditions he could not be absolutely satisfied the baby was dead.
An ambulance was called for but a misunderstanding resulted in it being assumed there were signs of life in the child.
The senior detective then realised it would be quicker to transport the baby to hospital in a police vehicle. Death was confirmed in hospital at 1230 GMT.
IPCC Commissioner Len Jackson said: "At the time of this sad incident there was understandable concern police may have inadvertently caused a delay in getting medical treatment to an infant who was possibly still alive.
"Medical tests support the view that the baby was stillborn, and therefore would have been dead for at least 10 hours before any police officers became involved."
Chief Insp Wayne Jones of Stoke police said the force had implemented the IPCC's recommendations.
"The matter will now be handed to HM Coroner and an inquest held in due course. The funeral of the baby has already taken place in private."
A spokesman for the Crown Prosecution Service said: "We have considered all of the possible offences in relation to the discovery of the baby and have concluded there is insufficient evidence to proceed with any criminal charge."