A Trident nuclear submarine could be cut to save costs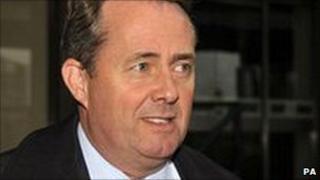 The UK's four Trident nuclear submarines could be cut to three as the Ministry of Defence studies areas where it can save money, Liam Fox has said.
The defence secretary said the MoD was looking at "the absolute mother of horrors of a spending review".
He said the fleet would only be reduced if it was possible to do so without compromising the UK's sea defences.
The government is carrying out a strategic defence review of the shape and size of the UK's armed forces.
The Trident vessels currently provide a nuclear deterrent because the submarines, under the waves in secret locations, would be almost impossible to destroy in a pre-emptive strike.
'War-fighting edge'
But critics say Trident is too expensive, and there have been calls to either scrap the nuclear deterrent or switch to a cheaper land-based missile system.
Dr Fox told the Chatham House policy think tank in London that a decision about the fourth submarine would be made in 2014/2015.
Earlier, he told attendees that the British military needed a "war-fighting edge" with "robust and well-equipped armed forces, capable of intervening abroad whenever necessary".
The government has said it is committed to maintaining the UK's independent nuclear deterrent and the strategic defence review will not be looking at whether to replace the ageing submarines.
However, Dr Fox said the review would look at whether Trident could be kept "while reducing the cost of the successor submarine and ballistic missile systems, including by shifting the balance between financial savings and operational risks".
He said the government would follow the steps taken by the previous Labour government and investigate whether technology would be able to play a role in dispensing with the fourth submarine while ensuring at least one was kept in the sea all the time.
He said: "That reality is still there. We would have to look at what technology was available and what risks we were taking as we come to make that decision on the fourth submarine sometime in 2014/15."
'Mother of horrors'
Dr Fox said economic conditions were tough but the review would be watched by allies and enemies alike.
He said: "This is not just a spending review.
"This is a full-scale strategic review with the absolute mother of horrors of a spending review on its back.
"Therefore this will be more difficult than some of our previous reviews, but it does offer an opportunity for us to reshape and to realign our security policy with our foreign policy and I think that is very long overdue."
He said the UK must not send signals which could be seen as lessening its commitment to engage with the world, or curtail an ability to respond to threats.
These could include nuclear rogue states, warlords and pirates, he added.
His comments came as it emerged that a YouGov survey carried out on behalf of Chatham House has suggested that 29% of the public want Trident replaced with something similar.
The researchers spoke to 877 opinion-formers and 2,481 members of the public between June 24 to July 2.
They also found that 30% wanted a cheaper deterrent while 20% wanted Trident to be culled.
Dr Fox said: "Our opponents need to be convinced that we have the political will to oppose them, the support of our people and the means to follow through.
"We would put this country at risk if we did not make every effort to make deterrence credible, on all counts."
He said an effective defence strategy needed "the capacity, either independently or with allies, to project credible land, air and maritime power with considerable geographic reach".
In his Budget last month, Chancellor George Osborne said departments would face average cuts of 25% when the government's public spending review is completed in October - potentially bigger than anything attempted by a previous UK government.
Health and overseas aid spending will be ring-fenced, while defence and education will face cuts of between 10% and 20%.
The strategic defence review, the first since 1997, will examine what sort of armed forces are needed in future and the cost involved.
Labour has said it backs the review and that "difficult" decisions will be needed.