'Barefoot Bandit' deported by the Bahamas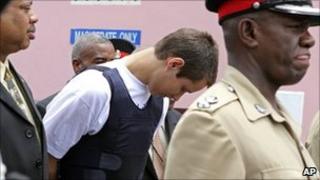 A fugitive American teenager dubbed the "Barefoot Bandit" has been extradited to the US by the Bahamas, hours after he pleaded guilty to illegal entry.
Colton Harris-Moore, who was arrested on Sunday after a high-speed boat chase off Eleuthera Island, was fined $300 (£198) by a Nassau court and deported.
He now faces prosecution for a string of burglaries and thefts across the US.
After a court appearance in Miami on Wednesday, Harris-Moore will be taken to Seattle, where he has been indicted.
Officials say he earned the "Barefoot Bandit" nickname by committing crimes without any shoes on, and in February he allegedly drew feet on a shoopfloor during a burglary in his home state of Washington.
Just days ago, the FBI announced a $10,000 (£6,600) reward for him.
Going home
Harris-Moore wore trainers without laces as he was escorted into the courthouse in Nassau, where he admitted entering the Bahamas illegally when he crash-landed a stolen plane there last week.
He smiled after the judge handed down the sentence of three months in prison or a small fine, which the US embassy is thought to have paid.
"Colton wants to go home," said his lawyer, Monique Gomez.
Hours later, US law enforcement officials escorted him on a commercial flight to Miami, the closest federal jurisdiction to the country of deportation.
After an initial hearing on Wednesday, Harris-Moore will be flown to Seattle, where he faces a federal complaint of interstate transportation of stolen property for allegedly flying a plane from Idaho to Washington state. He also faces charges of vehicle theft, identity theft, and possession of stolen property.
His mother, Pam Kohler, told the Associated Press news agency that she looked forward to seeing him again after two years on the run.