Can Cliff Richard make it in America?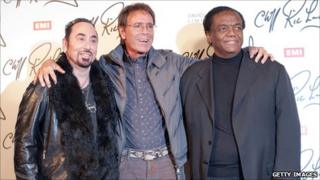 Sir Cliff Richard, the 70-year-old Peter Pan of British pop music, is to launch an assault on the US market by recording an album in Memphis with soul music stars Percy Sledge and Candi Staton, and a concert in Las Vegas in December. But can he make it in America?
At the press conference held to announce the project, Sir Cliff complained that he had never made it in America, but said he thought it was "jolly well time" that he did.
This was something of an exaggeration, as he has been on the show business radar in America in the past.
While it is true that Congratulations, Sir Cliff's massive hit that came second in the 1968 Eurovision Song Contest, reached only number 99 in the US, at one point he held the record for achieving hits there in four successive decades, from the 1950s to the 1980s.
'Middle of the road'
Cliff Richard began as a surly rock 'n roll singer in the late 1950s, and was soon hailed as Britain's answer to Elvis Presley.
Although this was not a good basis for recognition in the US - which already had the real thing - one of his early records, Living Doll, was a hit, albeit a minor one.
When his version of It's All In The Game sold well in the US in 1963, Cliff made his first concert appearances there, but this did not lead to lasting popularity.
Instead, his contemporary Tom Jones took America by storm with his provocative and energetic stage shows and television appearances, while Cliff slipped into a comfortable middle-of-the-road persona.
Nevertheless, he made a comeback with a sequence of six hits between 1976 and 1982.
One of these, Suddenly, was a duet with Olivia Newton-John, then at the height of her fame following the blockbuster success of the 1980s film Grease, in which she starred with John Travolta.
Since then, however, Sir Cliff has been more or less invisible in America.
At home in Las Vegas?
So how will he go down there? At present, British artists are enjoying great success in America, winning Grammy awards and heading the charts.
These range from solo singer Adele and the 'nu-folk' group Mumford & Sons, to Susan Boyle, the runner-up of Simon Cowell's British television show, Britain's Got Talent.
Whether Richard will, like them, appeal to the mainstream pop audience is debateable, but he may well be a hit with Middle America.
There may be interest from the media in his unusual living arrangements though. He is renowned for his celibate lifestyle, and his closest companion is a Roman Catholic priest.
He may also feel at home in Las Vegas, where middle-aged and elderly pop stars seem to find adoring audiences. Celine Dion and Elton John have had residencies there for some years.
Equally auspicious is the choice of Memphis as the venue for recording the new album, and of Lamont Dozier as its guiding hand.
Memphis has been a good destination for British singers in the past. The late Dusty Springfield recorded one of her finest albums there in 1969, and Simply Red and Phil Collins made albums there in collaboration with Dozier.
Dozier is one of the greatest American songwriters of the past half-century.
His early hits were written and produced with the Holland brothers (Brian and Eddie) for the Supremes, the Four Tops and many other Motown artists.
Later, Dozier worked on the hit Band Of Gold with Freda Payne, who is scheduled to duet with Cliff on the new album.
The unlikely impresario for this project is David Gest, who is best known in the US as the former husband of Liza Minnelli and friend of Tito Jackson of the Jackson Five fame.
In Britain, however, Gest has become a minor celebrity of reality television, having been featured in I'm A Celebrity, Get Me Out of Here! and Celebrity Cash In The Attic.
At the press conference reporters laughed when Gest hinted that Sir Cliff might be joined by a rapper on the new record.
"You may laugh now," Gest said, "but we're going to have the last laugh."
Who knows, he might be right.