Pinhole Photography: A Celebration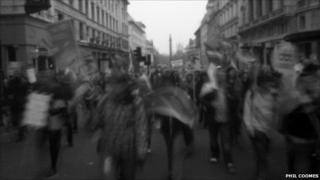 It is time to put aside your digital camera or phone and get back to basics.
This Sunday, 24 April, is Worldwide Pinhole Photography Day, a celebration of the simplest form of photography.
It seems to me there is a resurgence of interest in less complicated styles, where the technology does not overwhelm the end result or indeed the photographer.
There is nothing simpler than a pinhole camera, a black box with a pinhole on one side that allows light to fall on a piece of photographic film or paper.
Whilst covering the recent anti-cuts demonstration in London I carried a film camera loaded with TMax 3200 black-and-white film fitted with a pinhole body cap, a standard camera cover with a tiny hole at the centre. The results (top and right photos) were somewhat patchy, though you can see a few more examples on my Flickr page, but it was fun to do and something I will explore further.
To show off the work of a few of the many talented pinholers out there I have created a gallery on Flickr of their work and you can see pinhole themed pictures from our readers' as part of our weekly themed galleries.
One photographer who is doing far more than this is Lucy Phillips. I first met her at the Association of Photographers Gallery where we were both exhibiting work at their Celebration of Kodachrome show earlier this year. Chatting to Lucy I found out that she is working on a participative project using pinhole pictures entitled What Cannot Be Seen.
Lucy has been creating pinhole cameras from matchboxes which she sends to participants ready loaded with one shot plus detailed instructions on how to get a result. The camera is then returned to Lucy, who will develop the picture and upload to Flickr. I decided to take the plunge and my somewhat flawed result can be seen on Lucy's Flickr page.
I asked Lucy to tell me more about What Cannot Be Seen:
Where did your inspiration for the project came from?
"The idea of what cannot be seen came to me very suddenly last year, in response to two things. I'd recently started experimenting with pinhole photography and was also looking at the work of Sophie Calle. Her use of photography as a kind of secret recording device intrigued me and the idea of creating a very tiny pinhole camera that could be used surreptitiously and mailed out to people quickly followed.
"I came up with the idea of giving people a brief that they could interpret in various ways, and settled on the phrase 'what cannot be seen' since it seemed to offer a myriad of possibilities and also appeared to contradict what the camera is supposed to do, that is to record physical phenomena.
"Anyone who has experimented with pinhole cameras, with their long exposures and strange angles of vision, will have realised that these primitive photographic devices are capable of creating extraordinary images that suggest a kind of alternative reality.
"In addition, the slowness of the process encourages a great deal of consideration - you have to really decide what you are going to photograph, and how, and this approach (the antithesis of the instantly available - and disposable - digital image) is one that very much appeals to me and mirrors my own approach to photography.
How did you find people to participate?
"Practically speaking, what I did was to construct 30 pinhole cameras from matchboxes and load them with photographic paper. I then posted a status update on Facebook, asking for people to participate in a photography project, without specifying exactly what would be asked of them.
"I sent everyone who responded a camera and instructions, and a return envelope. I also asked them to write a short statement explaining what they had photographed and why.
"My original thought was that the process would be as interesting as the images. However, from the very start, the response of participants amazed me. I found myself receiving images which illustrated the most intimate aspects of people's lives. There was a picture of someone's birth mother with whom they had recently been reunited and who 'could not be seen' by the adopted mother, because it would break her heart.
"An incredibly detailed image of someone's secret fetish life. A photograph of someone's firstborn child in an incubator, and so on. It seemed as though the matchbox cameras almost functioned as confessionals. Other photographs demonstrated the relish with which people approached the project and the unfamiliar act of taking just one, carefully considered image. What was very clear is that people were very keen to create a successful and meaningful image. So I began to offer people a second or third chance if their first shot was not successful.
"The project quickly built up momentum and I began to receive requests for more cameras. A year later, over 100 cameras have been sent out around the world."
What made you build your own cameras?
"I built my own cameras because it's fun and cheap, but also because it means I'm completely in control of the process. It never really occurred to me to do anything else. I also tend to think of myself as not particularly good at making things so it was a challenge, and incredibly satisfying when someone produces a successful image from something you have made with a bit of cardboard, a drinks can (for the pinhole) and some electrical tape. I got the design of the camera from the internet. There are various sites, this is the one I used, although the idea of using paper rather than film in these cameras was my own.
Are there any tips you can offer to photographers wanting to have a go at pinhole work?
"My tips would be to experiment lots and to be methodical. The pinhole needs to made very precisely and the camera needs to be light tight. Most people start out using paper negatives in largish cameras and experimenting to work out the correct exposures with their particular camera. This is great if you have easy access to a darkroom. If you don't, a film pinhole camera means you can have the images developed at a shop and film also has a lot more latitude than paper, so exposure times are generally more flexible. Film is also faster than paper."
Would you like anyone interested in your project to get in touch, if so how can they do that?
"I'm not actively looking for participants at the moment - with an exhibition at the De La Warr Pavilion coming up... I expect I'll get some requests to participate, which is absolutely fine. I pretty much send cameras to everyone who asks at the moment (they don't all send them back, but most do) - but I foresee a point at which I might not physically or financially be able to keep up with all requests. Contact details are on the website, so people have found me through that, or through Flickr or Facebook."
What about your own work. I know you had a number of prints at the recent Kodachrome show. Tell me about that and other projects you are shooting?
"I had a brief period experimenting with pinhole photography last year, when I exhibited a piece I made through creating an in camera panorama of portraits taken on Hastings and St Leonards' seafront. Most of my own work, however, is made using a 35mm camera.
"At the moment, I seem to make photographs about what's around me - fragments of domestic interiors, odd corners of my immediate neighbourhood, peripheral landscapes. I had a solo show last year as part of Brighton Photo Fringe called "Nothing is the Same" and am currently showing until 2 May as part of the East Sussex Open at the Towner, Eastbourne.
"I am working on a number of projects at the moment, including two book collaborations and am considering initiating a new collaborative project with other artists, writers and photographers.
"I'm really excited that What Cannot Be Seen is part of a series of events at the De La Warr Pavilion and looking forward to having a What Cannot Be Seen launch event as part of De La Warr's Random Fridays season, when participants will be able to meet each other and see their work displayed in a gallery space. A book is in the pipeline and I hope to have a new website up for my own work in the next month or two, called 'whatcanbeseen.com' - of course."