Baidu's profits more than double on higher revenue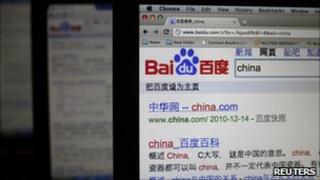 China's number one internet search engine Baidu has reported better-than-expected profits for the first three months of year.
The company said it made a profit of $163.5m (£98m) in the three months to end of March, compared with earnings of $70.4m during the same period last year.
Baidu said that its revenue for the period surged by 88% to $372m.
China, with more than 450 million users is the world's largest internet market.
It also has a huge potential for growth as the internet penetration in the country is yet to reach its peak in the smaller towns.
Dominant player
The Chinese search engine has been growing from strength-to-strength.
It has outrun its competition to become the market leader in China, with a more than 70% share of the country's search engine market.
While Baidu has been growing in dominance its competition has been facing difficulties.
The world's biggest search engine, Google, has run into problems with the Chinese authorities and has not been able to replicate its global success in the mainland.
Analysts said that as the Chinese internet market grows in size, Baidu is expected to increase its share even further.
The company has said that it expects its revenue in the second quarter to rise to between $493m to $504m.
However, analysts warn that Baidu's growing dominance may end up being a potential pitfall for the company.
"If it gets too large, it may also become the object of government scrutiny," said Mark Natkin of Marbridge Consulting.
"I don't think the government is happy with the idea of having a single company monopolise the market," he added.