Drug makers develop medicines to meet Asia's needs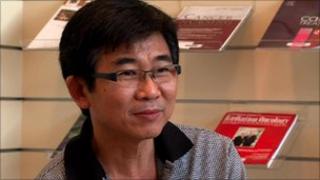 Exactly eight years ago, Woo Kum Tin had to make a life or death decision.
The 56-year-old was diagnosed with liver cancer and was given three days to decide whether to undergo major surgery to save his life.
"I could not believe it," Mr Woo recalls, adding that his wife made the doctor's appointment after she noticed he had lost his appetite.
"I tried to bargain with the doctor. Give me one month. Give me two weeks," he laughs.
His surgery went well, and although Mr Woo had a large chunk of his liver removed, he remains healthy.
In Asia, this makes him extremely lucky, not least because three-quarters of the world's liver cancer cases in males and two-thirds in females occur in the region.
With a fatality rate of 93%, it is a particularly Asian disease that has a high human and economic cost.
Deadly disease
According to the World Health Organization, liver cancer kills 700,000 people every year, which makes it the third most common cause of death from cancer worldwide.
China alone has more than half of newly diagnosed liver cancer cases in the world, while fewer than 4% occur in the US.
The main causes are alcoholism and infection with the hepatitis B virus (HBV) and hepatitis C virus (HCV).
These viruses are spread from person to person through sexual contact, blood transfusions, re-use of contaminated needles and childbirth.
Worryingly, fewer than 20% of patients who are diagnosed with liver cancer can opt for surgery, according to Professor London Ooi of the National Cancer Centre in Singapore.
And even if they undergo an operation, four out of five patients will see a recurrence within five years after surgery.
Lucrative market
In the past, the pharmaceutical industry focused on designing medicines for more lucrative markets in the West. As a result, there was only a limited amount of liver cancer treatments.
But as Asian patients have become wealthier, with their purchasing power boosted by economic development in countries such as China and Singapore, drug makers are paying more attention to their needs.
Asia's pharmaceutical industry is estimated to be worth $168bn (£101bn) at the end of 2010, according to market research and information analysis company RNCOS.
And while that is much smaller than the West, the speed at which it expands is expected to be much quicker in coming years.
The pharmaceutical industry is expected to grow by about 9.5% this year, while the sectors in the US and Europe are forecast to grow by 3.2% and 4.5% respectively, RNCOS estimates.
As a result, companies such as Pfizer, the world's biggest drug producer, are now developing treatments for diseases which are more prevalent in Asia.
"The diseases that are more common here include head, neck, stomach and liver cancers, as well as infectious diseases like hepatitis B, tuberculosis and dengue fever," says Dr Chong Chew Lan, medical director at Pfizer's clinical research unit in Singapore.
"We are at the early stage of developing medicines for these diseases and we will definitely see an increasing trend of companies focusing their research on Asia," she says.
"This is because there is a large population in Asia and there is a growing middle class who can afford these medications."
Traditional medicine
But while the companies are hoping to tap into rising demand, they will face competition from less modern medical miracles.
For thousands of years across Asia, people in the region have been relying on traditional Chinese medicine.
Liver cancer survivor Woo Kum Tin says he would have gone to his Chinese doctor and asked for herbal medicine, had he been given more than three days to decide over his surgery.
So is Western medicine well accepted in Asia?
"I remember the days when my grandparents would prefer to use traditional Chinese medicine," says Pfizer's Dr Chong.
"But with my own parents, I have seen that change," she adds.
"Now, they are more likely to use a combination of both. They go for Western medicine for a quick relief, while they use traditional Chinese medicine for an improvement of general health."
One company in Singapore, Eu Yan Sang, has been offering traditional products and services since 1879.
Ms Caryn Peh, senior general manager of the company's Clinic Services, says traditional medicine plays a complementary role.
"In Singapore, more than 80% of patients who are diagnosed by Western doctors also seek traditional Chinese medicine," she says.
"In developing nations, they might be more traditionalists in their ways of thinking," she added.
Different responses
They may have a point, especially as some experts believe that Asian patients also react differently to Western medicine.
Dr Chong of Pfizer Clinical Research Unit says there is a need to understand the effects of drugs on Asian patients.
"The advantage of having a research facility in Singapore is the multi-ethnic population of Chinese, Malays and Indians that we have," she says.
"What we noticed is that Asians tend to be more sensitive to any central nervous system responses caused by drugs," Dr Chong explains.
"So for example, if the drug causes drowsiness, we notice it more quickly in our Asian patients."
While reactions may differ, there is very little disagreement over the need for better and more effective medicines in Asia.
And now that the region's growing wealth offers greater opportunities for pharmaceutical firms, there is every chance that Asia's patients will also get to live longer and more prosperous lives.