S Korean inflation eases in April, as food output jumps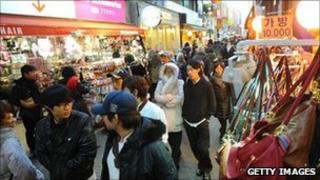 South Korean wholesale inflation has risen more slowly than expected in April, due to an increase in food production.
Producer prices grew by 6.8% in April from the same month a year earlier, the Bank of Korea said.
That is much lower than the 7.3% figure reached in March, a two-year high.
Despite easing prices, analysts say that inflation is still a problem, and the Bank of Korea is expected to raise interest rates this week.
"Today's economic data provides little reason for the central bank to change its policy stance, which I think is skewed toward more tightening," said Kim Jon-seong, an economist at Hanwha Securities.
Like other Asian countries, South Korea is in a fight against rising prices.
Inflation has been identified as one of the biggest threats to economic prosperity in Asia, with organisations such as the World Bank warning that it could lead to social problems.
South Korea's central bank is forecast to raise interest rates by a quarter percentage point to 3.25%.
Any rise in the interest rate would likely lead to a strengthening of the won currency.
A stronger currency brings down the price of imports, but it could hurt exporters and slow economic growth.
Separately on Wednesday, the country's statistics agency said unemployment had fallen to 3.6% in April, from 4.0% in March.
That was due to more hiring in the domestic services businesses the agency said.