NY arrests two men in 'synagogue bomb plot'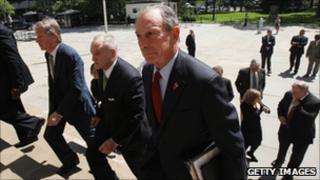 Police in New York have arrested two men and charged them with planning a terror attack on a synagogue.
Ahmed Ferhani, 26, and Mohamed Mamdouh, 20, immigrants from Algeria and Morocco respectively, bought guns and a grenade from undercover detectives, police said.
Police Commissioner Raymond Kelly said the men had no known connections to al-Qaeda.
If convicted, they face life in prison without the possibility of parole.
'Concrete steps'
In New York on Thursday, Mr Ferhani and Mr Mamdouh were charged under state law with conspiring to commit terrorism and a hate crime, and with weapons charges, according to a court filing released by Manhattan District Attorney Cyrus Vance.
"The defendants plotted and took concrete steps to bomb synagogues and kill Jewish New Yorkers as an act of terrorism," Mr Vance said in a statement.
"The NYPD identified this growing threat and, with prosecutors from the Manhattan district attorney's office, ran a successful undercover operation that stopped these men before they could execute their violent plan.
"Our top priority in law enforcement is keeping New York safe through effective prevention and enforcement, and today we achieved that goal."
The charges came after a seven-month investigation during which the men discussed their plans to bomb a synagogue and kill Jews with undercover police detectives, according to a sworn statement by a New York detective.
Mr Ferhani planned to disguise himself as a Jewish worshipper, enter the largest synagogue in Manhattan and leave a bomb, police said.
On Wednesday, Mr Ferhani and Mr Mamdouh drove with an undercover police detective into Manhattan, where another undercover detective gave Mr Ferhani two .380-calibre pistols, boxes of ammunition and an inert grenade in exchange for a promise of a future payment, police said.
The men were then arrested.