Jockey Club boosts turnover and racing prize money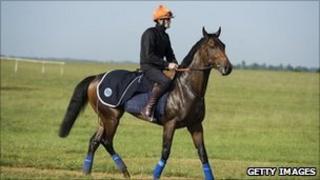 The Jockey Club, horse racing's largest commercial organisation, saw turnover rise by 8% in 2010 to £138m.
The organisation provided £13m in prize money in 2010, and says it will increase this by £2.7m to a record £15.7m this year.
The Jockey Club's assets include the leading group of racecourses in the UK, as well as the famous estates of Newmarket, Lambourn and Epsom Downs.
Racing is the UK's second most attended sport and employs thousands of people.
But the sport has been hit by bookmakers moving offshore and not having to pay the horseracing betting levy on the right to take bets on British races.
Cash from the levy goes towards veterinary science, prize money, training and breeding programmes.
Simon Bazalgette, the group chief executive of the Jockey Club, said that this was the biggest hurdle the industry faced.
"Gambling's pretty resilient. It tends to not go down as much as the rest of the economy during recessions so that's gone well," he told the BBC.
"The main problem for us is that although there's £1bn that the bookmakers make out of British horse racing, they're not paying their share of the levy to racing to keep the prize money up and that really is where legislation from the government is required."
Last winter's unusually bad weather also affected the sport, leading to cancelled meetings.
Mr Bazalgette said that, ignoring the impact of the cold weather, racecourse attendances were well up on the previous year and other areas of income, such as hospitality revenues, were also bouncing back.