Le Mans: Ultimate test for Swiss hybrid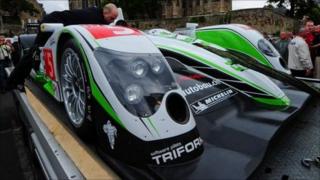 As two of the biggest names in motoring prepare to do battle at the Le Mans 24-hour race this weekend, what chance does a hybrid car stand in the race? One small manufacturer will be finding out.
The 24 Hours of Le Mans has a fearsome reputation.
Forbiddingly dangerous and uniquely punishing to both man and machine, it is a motor race like no other.
First held on the outskirts of the French town in 1923, it was designed as a test of endurance, giving manufacturers a stage on which to show off the speed and reliability of their latest designs.
Today the race is big business. A quarter of a million people attend each year to watch cars compete at speeds of up to 200mph.
Le Mans still attracts major manufacturers, who are willing to spend tens of millions of dollars in pursuit of the sporting cachet that victory can bring.
This year the race is likely to boil down to a straight fight between Audi and Peugeot. Both have won the race before - in Audi's case nine times - and the competition between them is ruthless.
Hybrid hope
But for some teams at Le Mans, winning isn't everything. Indeed, it is such a remote prospect that it barely merits a mention. Yet they still have sound commercial reasons for taking part.
One such team is Hope Racing, a tiny operation based in the Swiss town of Gruyere - a region rather more famous for its cheese than its engineering. It has just 12 full-time employees and a relatively paltry budget of $6.5m (£4m).
But it is about to do something the big manufacturer teams have never done. When the race starts on Saturday it will become the first team to compete at Le Mans using a hybrid car.
Hybridisation is an area into which car manufacturers are ploughing huge amounts of research and development money, as they attempt to comply with ever stricter fuel efficiency and emissions laws.
Hybrids come in many forms, but the central aim is constant: to reduce fuel consumption by harvesting energy that would normally be wasted - for example under braking - and using it later to power the car.
For Hope Racing's directors, engineer Benoit Morand and financier Jean-Marie Brulhart, the opportunity to become the first team to use a hybrid at Le Mans was not to be missed.
"We wanted to do something different", says Mr Morand.
"For a small team like ours, getting funding, getting sponsorship for a normal car is difficult, especially in Switzerland."
Commercial appeal
By using a hybrid, the team hopes to attract backers who want to show off their environmental credentials. But it has other plans as well.
"We all know that if motorsport is to survive it needs to do more to save fuel and protect the environment," says Mr Morand.
"So we have set up a company, SwissHytech, to build the engines which go with the hybrid system, and our goal is to make money by selling those engines to other motorsport teams."
The hybrid technology which Hope Racing is using is supplied by Flybrid Systems, a British company based at the Silverstone Grand Prix circuit.
It has developed a Kinetic Energy Recovery System, or Kers, which uses a lightweight flywheel to store energy under braking, before releasing it to boost the power of the engine under acceleration.
The mechanism was designed for Formula One but it is being adapted for use on the road. The goal is to provide a boost in performance while significantly reducing fuel consumption.
The company already has contracts with a number of car manufacturers, including Jaguar and Volvo, while other versions are being prepared for use in buses, trucks and mechanical diggers.
According to managing partner Jon Hilton, the company can learn a great deal from taking the system back to the track.
"Motorsport is a very dynamic environment, things happen very quickly," he says. "It's a great way of developing new technology before we bring it through to road cars.
New technology
"The system we are using at Le Mans contains new technology that hasn't been run before anywhere else."
You might think that systems developed on the race track would be destined only for the most sporty, high performance vehicles. But in fact that is not the case.
"We think the technology we're trying at Le Mans will end up being the lower cost, mass production solution for small road cars," says Mr Hilton.
"That's a segment of the market which has been relatively untapped so far. Most hybrids are quite big, expensive cars - so we see a big opportunity there."
It might seem strange to test technology destined for everyday shopping cars on a 200mph racing rocketship. But according to Flybrid, the two have more in common than you might think.
"The parallels are really very close," says Jon Hilton, "at least in terms of the total amount of energy you store. The specifications are very similar".
So like its partner, Hope Racing, Flybrid has solid business reasons for taking part in the Le Mans 24 Hours, which go well beyond a simple love of racing.
And if the technology works, then it may not be long before the driver of even the most humble run-around can claim his car has competition DNA, developed in the most gruelling motor race of them all.