Wrexham parade co-founder Adam Phillips in speech ban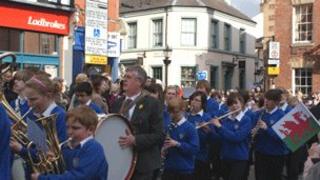 A co-founder of Wrexham's St David's Day parade has been left "outraged" after being banned from speaking at next year's event.
Adam Phillips, of Cambria Celtic Drum Band, allegedly made a controversial speech and an "inappropriate" gesture at this year's event.
He was banned in a letter from Wrexham council.
But Plaid Cymru councillor Carrie Harper questioned the move at a meeting of the council's executive.
She accused council's strategic and performance director Philip Walton of restricting freedom of speech.
In the letter, Mr Walton thanked Mr Phillips for his "actions and enthusiasm" in instigating the St David's day parade three years ago.
But he continued: "I know therefore, that you will be disappointed to learn that a number of complaints were generated from members of the public following your comments and actions...."
"Several people were offended by your 'clenched fist' salute, perceiving it to be aggressive and inappropriate.
"Taking a more balanced view drawn from the comments of others who were present, I appreciate that, in a wider context, this was neither intended nor actually the case.
"However, more seriously, others support the written complaint received that you used the event to promote your own political opinions.
"I understand that specifically you instructed the crowd on how they should vote at the national referendum and also encouraged them not to support any bid for potential city status.
'Outraged'
"Putting aside the issue that the situation offered no opportunity for someone to present an alternative viewpoint, you should appreciate that this was strictly an occasion when people had gathered to have fun and celebrate our Patron Saint; it was not a political event or an occasion to express political opinions.
"While I acknowledge that you did not have a prepared speech and that your remarks were therefore presumably entirely spontaneous, you need to appreciate that there are conventions and constraints that need to be observed when speaking at Council organised events such as this.
"I recognise that you were not advised of the existence of these constraints prior to the event and as a consequence, our Events Team will revise their procedures accordingly.
"However, I regret to inform you that as this particular incident has been interpreted as taking advantage of an opportunity to share your own political views, you will not be invited to speak at any future parade."
Mr Phillips said he was "dumbfounded" when he received the council's letter.
"I'm absolutely outraged," he said. "Who are they to decide on when I should speak?"
He said there were 1,500 people taking part in the St David's Day parade and an estimated 5,000 watching.
"There was only one complaint," he said.