Foster's rejects $10bn takeover offer from SABMiller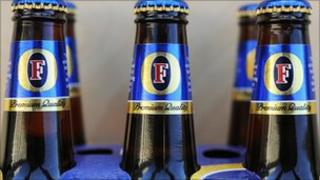 Foster's Group, Australia's biggest brewer, has rejected a takeover bid from global brewing giant SABMiller as too low.
SABMiller offered 9.5bn Australian dollars ($10bn; £6.2bn) for Foster's.
Shares in Foster's jumped 13% to A$5.11 in early trading on Tuesday on news of the rejection.
SABMiller said it will continue to engage with the board of Foster's to secure an agreed takeover.
"The board of Foster's believes that the proposal significantly undervalues the company in the context of a change of control and, as such, it does not intend to take any further action in relation to it," Foster's said in a statement.
Foster's said it received an offer of A$4.90 per share from SABMiller. The offer is 8.2% higher than Monday's closing price.
Split up
There have been talks of a takeover of the brewer since last year, when it announced plans to break up the company into two parts.
Foster's spun-off its troubled wine business which was seen to be deterring potential suitors.
Foster's beer operations and the wine business, Treasury Wine, were listed separately on the stock exchange last month.
Foster's has about 50% market share in Australia.