Tyrone officials knocked out at Ladies Football final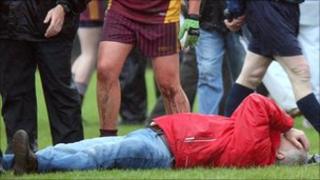 GAA administators in Tyrone have said they are investigating after two officials were knocked unconscious following a club game on Friday.
The Tyrone County Board said it condemned the assaults at the ladies' senior final between St Macartan's and Carrickmore at Beragh.
It said one of the victims was the match referee while the other was an official from the ladies' board who was trying to intervene.
Both were stretchered off the pitch.
The board said it wished the victims a speedy recovery and would not make any further comment until the investigation is complete.
Irish News reporter Diana Rusk said that the referee, Simon Brady, had awarded a free-kick to St Macartan's, an Augher based club, just before full-time.
"They scored a point and went on to win the game," she said.
"The ref blew his whistle about 30 seconds later. Spectators came on to the pitch and then a normal match descended into pretty vicious scenes."
She added that when the referee was struck by a supporter, senior official Martin Conway went to his aid, and was also punched to the ground.
She said she had spoken to Mr Brady and he had described the incident as "shameful and disgusting".
"He pointed out that GAA is an amateur sport so he gives his time freely as a volunteer and that being a referee can be a lonely, thankless task."