Thailand's election: the economic fallout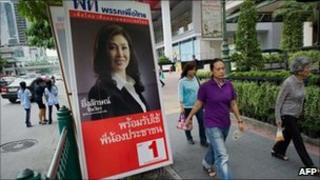 Thailand now knows who its sixth prime minister in five years will be - 15 months after more than 90 people died in political violence and five years since the last coup.
It seems a recipe for economic terror.
Inflation is nudging higher (to 4.2% in May), and both leading parties have promised a rack of give-aways, from higher wages to credit cards.
The Bank of Thailand said foreign investors had withdrawn 57bn baht ($1.85bn; £1.15bn) from the Thai debt market last month and 17bn baht from the stock market. The Stock Exchange of Thailand (SET) shed 74bn baht of its value in May.
Surely the pillars of the Thai economy must be crumbling, just as the buildings of Bangkok burned a year ago?
Not so, say economists and investors.
The business community has not been fearing election day, nor even the results - both the incumbent Democrat Party and opposition Pheu Thai - who have won - are pro-business.
But investors are worried about inflation, by the promises of all leading parties to raise minimum wages, and by uncertainty.
Exceptional?
A foreign investor told the BBC, on condition of anonymity, that it was not elections that had damaged his consumer businesses.
He cited three low points - the September 2006 coup, the airport closure of November 2008, and the demonstrations and crackdown of April-May 2010.
"But it was the coup that was most serious - it prompted a major drop in confidence, a malaise that lasted more than a year," he said.
Last year's red-shirt protests looked far worse but sparked fewer business concerns.
The political stresses have been starkly localised. Manufacturing industries are located out of town with unaffected access to ports for export.
The past year has been the best yet for businesses geared both to tourists - who came back faster and in bigger numbers than expected - and to free-spending Thais across the country.
This experience has prompted some analysts to expound a theory of Thai exceptionalism, in which somehow the country's fraught politics leave the economy unscathed.
Big spenders
The SET Index was the second-best performing benchmark equity index in east Asia in 2010, after Indonesia, posting a 41% gain. The Thai baht was also one of the top performers against the US dollar amongst Asian currencies.
Thais across the country are spending more than ever, too.
That is partly because of the easy credit available and is also, says Professor William Klausner of the Institute of Security and International Studies in Thailand, indicative of a profound generational shift among Thai villagers.
Resident in Thailand since the 1960s, he has tracked what he calls a "seismic shift" from a bucolic, barter-based, simple rural life to the cash-based, high consumerism and highly globalised life of the average Thai today.
Many Thai families have members who have travelled or are working abroad; most have TVs, mobile phones, computers and cars.
Most profoundly, says Prof Klausner, literacy has increased exponentially, people are consuming news and views more than ever and women are being educated too.
They want, most of all, to get on materially.
Consumer confidence has returned, according to HSBC economist Wellian Wiranto.
"So, if you throw in more stimulus, there is a danger then of the economy overheating and inflation picking up further," he warned.
Bank of Thailand assistant governor Paiboon Kittisrikangwan told Reuters: "Everyone seems to compete over how much more they can hand out than the other party without looking at the bigger picture - the long-term sustainable growth."
Policy points
Few voters were expected to make their choice of future government on the basis of economic policy platforms, not least because there was little to choose between the major parties.
Both have promised big spending on infrastructure and a nascent welfare policy founded on the low-cost healthcare and cheap credit started by former leader Thaksin Shinawatra.
The central bank is urging whoever wins the election to keep the current government's pledge to balance the budget by 2015.
But solutions to the Thai economy's deep-seated problems are scarce, despite pledges to reform education and tax (currently accounting for just 17% of GDP).
For those with a memory beyond the 2006 coup, the prospect of either a Thaksin-backed or Democrat party-led government offers equal parts of fear and hope.
It is precisely Thailand's record of mishaps - in its 78 years of democracy it has survived 18 attempted or actual military coups and new constitutions - that gives the long-stayers a kind of confidence.
Having survived all that, what more can go wrong?