Frank Lloyd Wright's Ennis house sells for $4.5m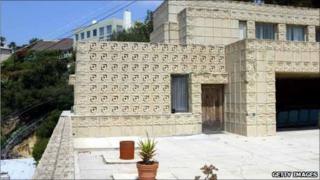 A landmark house, designed in the style of a Mayan temple, by American architect Frank Lloyd Wright has been bought for $4.5m (£2.79m).
Ennis House was originally put on the market in 2009 for $15m but the sale price was later lowered. The building needs substantial restoration work.
It was bought by supermarket tycoon Ron Burkle who will continue renovating it, the building's sellers announced.
Built in 1924, the house overlooks Hollywood Hills in Los Angeles.
It has featured in several films including Blade Runner, House on Haunted Hill and Grand Canyon.
But the house was severely damaged after a 1994 earthquake and during record rainfall in 2005 and it has also suffered from delayed maintenance, the Ennis House Foundation said in a statement on its website.
"Mr. Burkle has a track record of preserving important historic homes, and we know he'll be an excellent steward of the Ennis House," the statement said.
'Textile block' icon
The foundation estimates it has already spent $6.5m on repairs for the house.
When the house was first put up for sale the foundation estimated that it would need up to $7m of renovations to return the house to its original state.
At about 6,200 sq ft (576 sq m), it is the largest of Frank Lloyd Wright's four Los-Angeles "textile block" houses.
These experimental houses are made up of patterned and perforated concrete blocks, which lend them a unique appearance - Ennis House was constructed from more than 27,000 concrete blocks.
It was originally built for the men's clothing chain owners Charles and Mabel Ennis but it has changed hands several times since then.
It is unclear exactly what the new owner plans to do with the house. But the Ennis House Foundation said that Mr Burkle will provide public access to the house for a minimum of 12 days each year.
A spokesman for the foundation says it expects Mr Burkle will use the house for fundraising and other events, the Associated Press news agency reports.