Isle of Wight Culver Down car plunge leaves two dead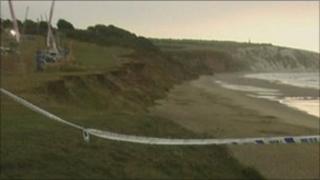 A man and a woman have died after their car went over a 340ft (100m) cliff on the Isle of Wight.
Coastguards said the car was thought to have been travelling at more than 30mph (48km/h) when it went over the cliff at Culver Down on Wednesday evening.
Emergency crews said two bodies were recovered from the upturned blue Renault Scenic on the beach below the cliffs between Bembridge and Sandown.
Police said the man, in his 50s, and the woman, in her 40s, were islanders.
Officers are examining the cliff-top road the car left as it went over the cliff.
Couple's behaviour examined
Paths and nearby beaches remain cordoned off for forensic examination.
Insp Colin Hall said: "Our investigation is focused on the couple's behaviour shortly before the car went over the cliff.
"We must consider every possibility at this early stage but detectives are not looking for anyone else suspected of being responsible for the deaths.
"We're continuing to appeal for more witnesses who may have seen a couple in a blue Renault Scenic car in or near the top car park at Culver on Wednesday evening.
He said next-of-kin from different parts of the UK had been informed and post-mortem examinations were due to be carried out later but the couple were not expected to be named until later this week.
Public thanked
Anne Ricketts, 47, from nearby Sandown, was walking her dog along the beach at about the time of the incident.
She said she saw a tractor dragging a trailer containing four firefighters towards the beach.
Just after 20:00 BST she saw a coastguard helicopter in the area, while "truckloads" of rescuers from the coastguard were being dropped off nearby, she said.
Police said they were exploring options for the vehicle to be recovered safely from the beach this week.
Insp Hall added: "Police would like to thank members of the public for their co-operation and help with our enquiries so far.
"We're also grateful to our emergency service colleagues for their expertise at the scene."