Co-op chief says trading conditions 'worst in 40 years'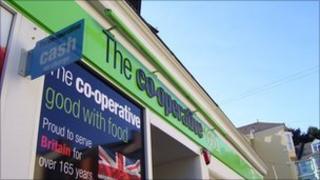 The boss of the Co-operative Group has warned current trading conditions are the worst for 40 years as the company unveiled a drop in half-year profits.
The Co-op reported a 12% drop in underlying profits to £230.8m for the six months to 2 July.
Food sales were down to £3.7bn from £3.9bn last year.
Group chief executive Peter Marks said competition, a lack of consumer confidence and government austerity cuts were all factors behind the fall.
"At the full year we warned that the downturn was biting deeper than anyone had expected and predicted that challenging trading conditions would continue into 2012," he said.
"This has clearly proved to be the case. Indeed it is the worst I have seen in 40 years of retailing."
Despite the downbeat results, the Manchester-based company is continuing with a £2bn investment programme over three years, adding it spent £280m over the six-month period.
This included new food distribution centres in Hampshire and Lanarkshire, with two more costing £110m in the pipeline.
The group has refitted 244 food stores and opened eight new stores over the results period. It will refit a further 259 shops and open 30 new stores in the second half of the year.
It was a slightly rosier picture for the Co-op's financial services arm, which saw underlying profits rise 20% to £131.3m, with income up 16.7%.
However, the group has swallowed a one-off charge of £90m to cover claims for potential mis-selling of payment protection insurance (PPI).
Mr Marks added: "Looking ahead, we do not see signs of any real improvement in the economy and we are planning accordingly to help our customers as much as possible through this difficult period.
"Given the outlook and our determination to continue to invest through the cycle, we will find it difficult to match the record profits we made in 2010."