Texas wildfires: Your stories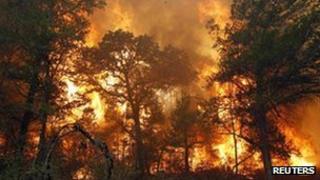 Firefighters in drought-stricken Texas are struggling to contain a 16-mile-wide (26-km) wildfire that has destroyed almost 500 homes.
Officials said the fire had "grown considerably" on Monday and was now burning on 25,000 acres (10,000 ha).
BBC News website readers in the area have been sharing their experiences.
Anna Love, Tahitian, Texas
My mother and I had to leave our house in Tahitian today and we understand that it has been completely destroyed.
I'm in complete shock.
This is the sort of thing that you expect to see in California, but not here. I just don't believe it's happening.
Bastrop is a close-knit community and people are rallying around each other.
Church groups are leading with the distribution of supplies and my mother is staying in a temporary shelter in one of the churches.
It's difficult to get information but lots of people have been using social media to share information about which areas and houses have been destroyed.
It seems that Tahitian has been particularly hard-hit.
I am in San Antonio. I plan to go to work tomorrow as I will need to take time off when we're allowed to go back to our house.
In the meantime, we are just waiting. I've heard that the fire services are going to let the fire burn down to the Colorado river, which means we may not be able to get back in until Friday.
Jim Minto, Houston, Texas
We were evacuated from Bastrop on Monday afternoon when a mandatory order came in, at about 1700.
We have a ranch in Bastrop and we watched the fire as it grew.
At that stage the fire was about 3-4 miles away from us, but we drove up to a high spot on the Antioch Road where we could see the flames stretch to the north and south.
It went as far as you could see. It was pretty terrifying.
We were not that close but we certainly could smell it - the burning wood gave off a strong odour.
The surprising thing about the fire was the number of explosions - every 10 or 15 minutes there would be a tremendous explosion followed by a huge plume of black smoke.
These may have been caused by propane tanks, which is the most common source of stored fuel in such a rural area.
We had enough time to secure the things we wanted and get out of there.
The frustrating thing is that there's no information available - we don't know the extent of the fire so we don't know whether the ranch has been affected since we left.
My main feeling now is worry. We just don't know what we're going to find when we finally get back to our ranch.
Teresa Jackson, Lubbock, Texas
We were travelling north to Dallas when the fire broke out.
Traffic was stopped, then we were rerouted to another highway because the smoke was so bad. According to the news, that fire burned 1,600 acres.
It was scary to see a fire like that even from a distance.
It makes me sad to see all of the homes that have burned and livestock that have perished.
There is a huge fire burning northwest of Houston, in the town of Magnolia, that burned many homes.
They have cancelled school today due to the wildfire.
Hashaam Markas, Austin, Texas
I drove from Bastrop to Austin to pick up a friend whose village had been evacuated because of the wildfire.
Even from 15-20 miles off the smoke was engulfing the entire sky - it was a sort of orange hue so you could tell that the fire was still burning. You couldn't see any blue at all.
My friend had to leave the house and was only able to take his dog and a small duffle bag.
The emergency services had managed to get them out well before there was any damage, but the fire had spread quickly and we heard that the winds had reached speeds of up to 45mph.
By the time we left, police were saying that my friend's entire village had been destroyed and that some of the surrounding villages had been affected too.
The fire spread across Highway 71 and drivers were being diverted onto farm roads and small town roads. It was just a mess.