The cost of Afghanistan for British troops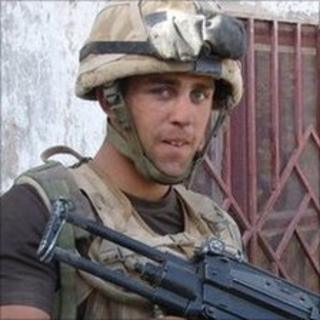 Go to Headley Court rehabilitation centre, or to the recently opened Tedworth House recovery centre, and the human impact of a decade of war in Afghanistan is all too clear.
As you watch an early-morning physical training session in the gym at Tedworth House in Wiltshire, what you notice first is the intense focus and fierce concentration of the fit young men riding exercise bikes, or pushing up weights as if their lives depended on it.
Only gradually do you register their missing limbs, and the still livid scars that shrapnel and debris from a bomb blew deep into their flesh.
Among those at the gym is Liam Thompson, 23, a former Royal Marine hit by the blast from a rocket-propelled grenade while on patrol with his unit, 40 Commando, in Helmand in 2008.
He lost the vision in his right eye, forcing him to leave the organisation he joined at 17 - and a way of life he loved.
No regrets
He is now adjusting to his new life, setting himself up as a personal trainer, while he also works in a bar. Like many of the wounded here, Mr Thompson shows a remarkable lack of bitterness at the drastic changes wrought by his time in Afghanistan.
"I didn't think it would happen to me, but I don't regret anything I've done," he says. "Everything I've done I've really enjoyed.
"Obviously being injured was a low point, but going to Afghanistan isn't something I regret. I was there to do my job, and as far as I'm concerned I've done the best I could."
Since returning to the UK, he has also been a staunch supporter of Help for Heroes, the charity which helped galvanise and channel the outpouring of public support for British forces when the number of servicemen and women wounded in Afghanistan rose sharply after UK forces went into Helmand in 2006.
Some 1,792 service personnel have been wounded in action in the past 10 years of conflict, the majority by home-made bombs, known as improvised explosive devices or IEDs.
Thanks to advances in medical care on the frontlines and at the Queen Elizabeth Hospital in Birmingham, there are now more "unexpected survivors" from devastating injuries than in any previous conflict. They include several triple amputees.
The couple behind the charity, Bryn and Emma Parry, little imagined when they began to raise money for a swimming pool at Headley Court in Surrey in late 2007 that they would manage to raise £108m in just over four years.
The cash has flooded in from cake sales, bike rides and even children donating their pocket money, as public concern over the initial treatment of the injured mounted.
'Fantastic treatment'
That concern, along with frequent damning headlines and a discreet behind-the-scenes campaign by some senior military officers and their wives, also brought a sharp and sometimes uncomfortable focus onto how the Ministry of Defence (MoD), NHS and military medics in the UK could work together better to improve and co-ordinate the ongoing care needed by the wounded.
"It is very fashionable to knock the MoD, but while the serviceman is still serving, he or she gets fantastic treatment, superb first aid and terrific support at Queen Elizabeth Hospital, and fantastic rehabilitation at Headley Court," Bryn Parry says.
"And now with these recovery centres working in partnership with the Defence Recovery Capability and the Royal British Legion, we are going to create a method of helping them launch into their new life and provide a support network for the rest of their life."
But like many of those in military charities involved in helping those physically or mentally wounded by the war, Mr Parry worries about the future - and what happens if public awareness of and support for the injured dwindles.
"The big issue for me now, and we need to solve this while the public are still focused and the money is still coming in, is how we are going to keep on supporting these special young men and women.
"How we are going to support them for life when public support wanes, which is what I'm worried about. We've got to make sure the public stays with them - and that has to be forever."
As he walks around Tedworth House, it is clear this is a deeply personal project. The Parrys' son has served in Helmand, and lost comrades and seen many friends wounded.
The renovation of the old officers' mess that became Tedworth House has been done with minute attention to detail and quality, from the pictures on the wall - soothing, rather than military - to the wet rooms in the accommodation that ensure even the most badly injured can shower more easily.
'More nervous'
The centre is run in partnership with the MoD and the Royal British Legion, the forces charity that sprang from a similar national impulse to help former servicemen some 90 years ago. The RBL's annual Poppy Appeal raised a record £36m last year.
Among those working at Tedworth House is Jade Harris, whose husband Chris - a soldier in the 2nd Royal Tank Regiment - was blown up in Helmand when his armoured vehicle hit an IED.
She remembers clearly the knock on the door the night he was injured, but little else that she was told by the visiting officer. She made him write it all down so that she could take it in after he had left.
Her husband Chris, who had suffered a fractured arm and leg and head injuries, is still in the Army, and she knows that once he recovers, he will return to serve in Afghanistan.
"He wants to go back out there," Mrs Harris admits. "I know how much he wants to do it, and obviously I'm his wife and I will support him. But I think I will be a lot more nervous."
In army towns such as Tidworth, Catterick or Aldershot, the sight of young amputees walking with the help of prosthetic limbs no longer attracts the attention it once did.
They have become a part of the UK's consciousness, just as the crowds who turned out at Royal Wootton Bassett - to pay their respects as the cortege passed by - grew over time from a small, spontaneous tribute into a far bigger expression of the nation's sorrow for those 380 servicemen and two woman killed in a war for which few in the UK have ever displayed much enthusiasm, even as the majority support those who fight it.