Festive drink-drive numbers rise slightly in Wales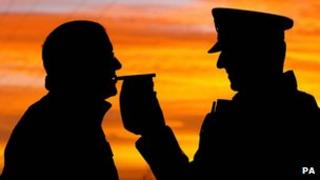 The number of motorists who failed roadside alcohol breath tests over the Christmas period rose slightly in 2011.
Police across Wales tested just nearly 28,000 people, with 545 failing or refusing to give a test.
The figure is slightly up at 2%, compared to 1.4% in the 2011 anti-drink-drive campaign.
"There is still a small group of motorists who are determined to drink and drive," said Supt Huw Rees, of Dyfed-Powys Police.
"Dyfed-Powys Police will continue to work closely with our road safety partners in educating drivers about the dangers of drink and/or drug driving."
In Dyfed-Powys a total of 5,571 tests were carried out, and 123 (2%) were positive, failed or refused.
In Gwent, 55 people (0.9%) failed the roadside test, of a total of 6,00 .
Alcohol limit
The largest number of positive breath tests was in the South Wales Police area.
Of the 6,663 motorists asked to give a breath sample, 272 (4%) were arrested for being over the legal alcohol limit or refusing to provide a specimen.
North Wales Police carried out 9,507 tests, with 95 (1%) caught during the four-week campaign up until New Year's Day.
Police also revealed that a further five people were arrested over the Christmas period for driving while under the influence of drugs.