'Disorientation' behind fatal County Galway air crash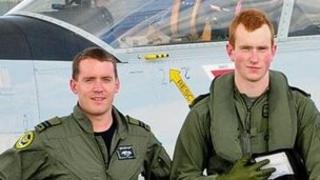 A crash in 2009 in which two Irish Air Corps pilots died was probably caused by a loss of situational awareness and disorientation, a report has concluded.
Flight instructor Captain Derek Furniss and Cadet David Jevens were killed in October 2009 when their Pilatus PC-9 aircraft crashed in Connemara.
They were taking part in a military training flight.
The report into the accident said contributory factors included very changeable weather conditions.
The report was carried out by the Air Accident Investigation Unit at the Department of Transport.
It said the aircraft, which had been flown from a base in County Dublin, entered a narrow, steep-sided valley shortly before the crash.
"It then commenced a rapid series of steep turns and turned onto a northerly heading while pitching up and climbing into cloud," it said.
"The aircraft then entered a progressively increasing pitch down attitude while rolling to the right.
"It impacted the northern slopes of the valley in a steep nose down, wings level attitude at high speed.
"Both crew members were fatally injured and the aircraft was destroyed."