'Record pre-sales' for Isle of Man TT races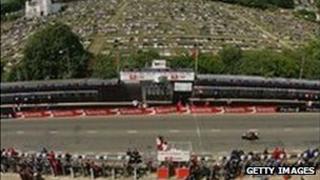 Tickets for this year's 2012 TT races are selling quicker than ever before, organisers have confirmed.
With four months to go the annual biking event at the end of May, the main grandstand has already sold out on three of the four race days.
Last year, more than 3,000 people booked to visit the island for the TT races.
Meanwhile, residents have again been urged to open their homes due to a shortage in hotel rooms and other accommodation.
"We have had a huge increase in demand," said Geoff Corkish, MHK, political member for tourism.
"There is no doubt that the TT's global status continues to grow."
'Ultimate challenge'
To cope with a surge in demand from racegoers, new purpose-built grandstands will be built around the course to cope with demand..
The five new areas, each offering a guaranteed seat, went on sale at the beginning of the year and in some instances have already also sold out.
For the second year running, Isle of Man Tourism has appealed to island residents to help accommodate TT visitors with many hotels, bed and breakfast and self-catering properties reporting they are fully booked.
Acting head of tourism Angela Byrne said: "We are now looking at camping and homestay to try and increase the bed spaces available."
BBC motorcycling commentator Steve Parrish said: "I think the island is going to be sinking if we are not careful with so many people coming over.
"Lots of people come up to me in America and Australia and talk about the TT.
"They all want to come here, but the problem is I'm often up and down Douglas promenade looking for hotels and it looks like I may need to get a bigger house.
"It is the ultimate challenge between man and machine. I love it."
Interest in the race has soared since a documentary, produced by a Manx film company, was shown in more than 40 countries, attracting a new audience.
TT3D Closer to the Edge vividly recounts the 2010 races through the eyes of the riders, as they battle to become King of the Mountain.
The 2012 TT event begins for two weeks on 26 May.