Screen maker LG Display reports $156m quarterly loss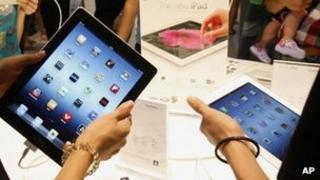 LG Display, the South Korean flat screen maker, has reported operating losses of 178bn won ($156m; £97m) for the first quarter of 2012.
It was the sixth straight quarterly loss for the firm, which makes liquid crystal display (LCD) flat screens for TVs, computers and mobile phones.
Analysts had forecast losses of about 125bn won.
LG has been hit by production delays in screens for Apple's new iPad and weaker Chinese demand for TV panels.
But analysts expect the company to return to profit in the current quarter as deliveries of panels for the new iPad and 3D televisions begin to flow. LG expects shipments to rise by 10%.
Shares in LG Display closed 0.9% lower on Tuesday, and are down 36% over the year.