Underage drinking: Penalty points for NI pubs and clubs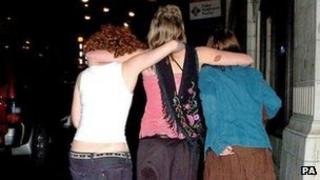 A penalty points system to deal with underage drinking in pubs and clubs throughout Northern Ireland was introduced today.
As part of the proof of age scheme, bars have been issued with an official list of identification cards acceptable by law. Any establishments found to be in breach of the guidelines will be issued with 'penalty points'.
Bars and clubs accumulating 10 penalty points in a three year period will have their licence revoked for a minimum of one week and maximum of three months.
Social Development Minister Nelson McCausland described underage drinking as "a major problem in our society."
"Ultimately it's about taking care of the health and wellbeing of our young people," said Mr McCausland.