India praises Olympic medal winner Gagan Narang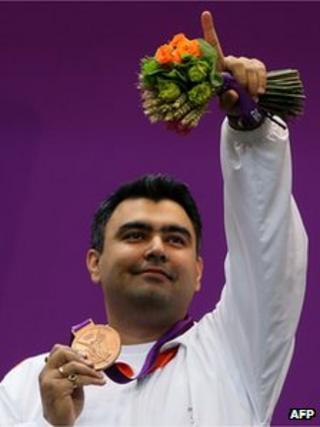 India's media have lauded shooter Gagan Narang who won the country its first medal at the London Olympics.
Narang won the bronze model in the men's 10m air rifle final on Monday.
Sports Minister Ajay Maken also congratulated Narang for his feat and offered him a job.
Narang's bronze provided some consolation for the hundreds of Indian supporters in the rifle range after defending Olympic champion Abhinav Bindra finished 16th in qualifying.
Narang won the bronze medal with a total score of 701.1
"I guess I have a huge stone off my shoulders," Narang said after his win.
"Bronze is a medal, and this is an Olympic bronze medal, so it's quite exciting."
"First salvo: Ga-gun fires bronze," said Hindustan Times newspaper.
The Hindu said Narang's medal had "infused life into the Indian challenge on the fourth day of the Olympics".
"India Goes Gaga Over Gagan," said The Times Of India .
Sports Minister Ajay Maken said "had it not been for one shot, Gagan would have won the gold as well".
He also offered Narang a job with the Sports Authority of India, which promotes sports in the country.