Amy Winehouse Foundation makes donation to Dublin hospice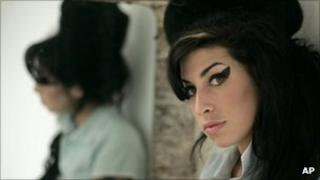 The family of singer Amy Winehouse will donate the proceeds from her posthumous album, "Lioness", to a children's hospice in Dublin.
Her father, Mitch Winehouse, will hand over a cheque for 25,000 euros.
LauraLynn house was set up by the parents of two children who died within the space of two years.
Mr Winehouse visited the hospice last year and said it was a perfect candidate for funding from the Foundation, which he helped set up.
The 'LauraLynn Children's Hospice' Foundation was set up in 2001 as a result of an enormous personal tragedy in the lives of Jane and Brendan McKenna which saw them lose both of their precious daughters Laura and Lynn in the space of just two years.
In an interview with BBC Radio Ulster, Mr Winehouse said that Amy loved babies.
"Amy loved kids and she loved babies. When she passed away the very first projects that we looked at supporting were children's hospices.
"We can only second guess what Amy would have wanted but I know she would have wanted to support this charity."
"When we received the money from Amy's album we started to look for a charity to support and that's when we decided to support LauraLynn."
Mitch said it was important to keep the memory of Amy alive.
"Amy had a serious drug problem, she had a serious alcohol problem which she was dealing with. There is no getting away from that.
"We want to increase education about drug addiction in schools as prevention is better than cure."
Mitch has released a book called Amy: My Daughter, the proceeds of which will go to the foundation.
Amy Winehouse died aged just 27. Her death left not only her family and close friends heartbroken, but had a huge impact on people all over the world. Amy and her music had touched the lives of millions across the globe.
Amy's family launched the Amy Winehouse Foundation on 14 September 2011, on what would have been Amy's 28th birthday.
The Amy Winehouse Foundation has been set up in Amy's memory to support charitable activities in both the UK and abroad that provide help, support or care for young people, especially those who are in need by reason of ill health, disability, financial disadvantage or addiction.